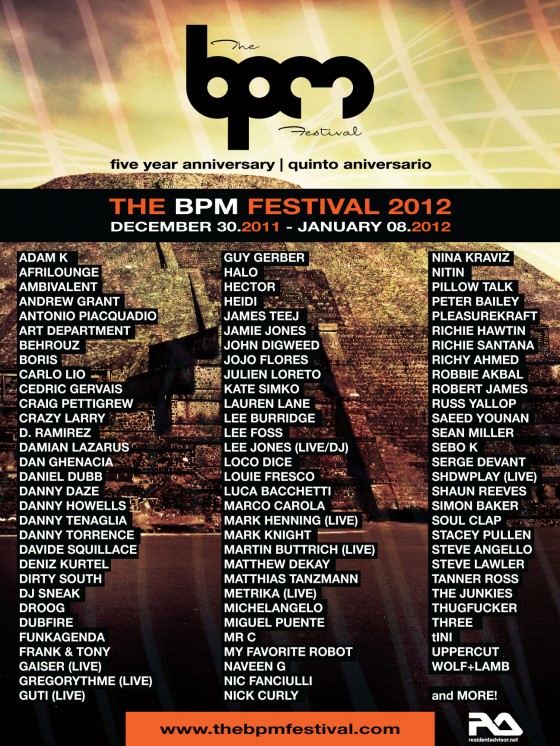 This year will be the 5th anniversary of the BPM Festival, an event originally conceived as an elite EDM networking event gone all Ultra/WMC. Last year Mixmag named it one of their 10 Best International Parties, and for good reason.
This year's lineup is even more out of control – over 20 of the worlds best electronic music labels are represented along with 150+ elite DJs, many of which were listed on Resident Advisor's top 100!
About The BPM Festival
The BPM Festival is an annual world-class electronic music festival which takes place in idyllic Playa Del Carmen, Mexico, heralding in the new year.
BPM parties are hosted both day & night at multiple venues around the beautiful resort town, tucked into the coastline of the Mayan peninsula, warm turquoise Caribbean waters, white sand beaches, mysterious jungles and ancient ruins.
With a variety of luxurious and affordable boutique hotels and endless number of places for dining, dancing, beach parties and clubbing, the BPM Festival is a perfect opportunity for music lovers and party-goers all around the world to escape winter and revel in the sun.
The Lineup:
Adam K, Addy, Afrilounge, Ambivalent, Andrew Grant, Antonio Piacquadio, Art Department, Behrouz, Bioniq, Black Light Smoke, Boris, Carlo Lio, Cedric Gervais, Craig Pettigrew, Crazy Larry, D-Paack, D. Ramirez, Damian Lazarus, Damian Romero, Damian Uzabiaga, Dan Ghenacia, Daniel Dubb, Danny Daze, Danny Howells, Danny Tenaglia, Danny Torrence, Dave Powers, Davide Squillace, Dead Seal, Deniz Kurtel, Digitalique, Dirty South, DJ Draggon, DJ Lukas, DJ Sneak, Donovan, Dory, Droog, Dubfire, Dyed Soundorom, Endo, Fary, Frank & Tony, Fredo Cortez, Funkagenda, Gaiser live, German Wagener, Gregorythme (live), Guti live, Guy Gerber, Halo, Heidi, Hoj, James Teej, Jamie Jones, Jeff Gold, Joee Cons, John Digweed, Jojo Flores, Jonny Cruz, Julien Loreto, Kate Simko, Kenyon Clidero, Lauren Lane, Lee Burridge, Lee Foss, Lee Jones, Leon, Loco Dice, Louie Fresco, Luca Bacchetti, Manzone & Strong, Mar-c, Marco Carola, Mark Henning, Mark Knight, Marko Nastic, Martin Buttrich, Matthew Dekay, Matthias Tanzmann, Max Jacobson, Metrika, Michelangelo, MightyKat, Miguel Puente, Mike Khoury, Mike Montano, Miketrix, Mobius Strum, Mr. C, Muan, My Favorite Robot, Naveen G, Neno, Nic Fanciulli, Nick Curly, Nik Nik, Niko Glenn, Nina Kraviz, Nitin, Nymra + Sofisticated, Omar Labastida, Paskal & Vesselinov, Peter Bailey, Pillowtalk (live), Pleasurekraft, Puente + Rosch, Richie Hawtin, Richie Santana, Richy Ahmed, Robbie Akbal, Robert James, Rodrigo Madrid, Ross Evana, Russ Yallop, Saeed Younan, Sean Miller, Sebo K, Serge Devant, Shaun Reeves, Shdwplay (live), Simon Baker, Soul Clap, Stacey Pullen, Steve Angello, Steve Aries, Steve Lawler, Tanner Ross, Tara Brooks, Tato, The Junkies, The Midnight Perverts, Three, Thugfucker, tINI, Tini Tun, Uppercut, Wolf + Lamb, XO-Chic
And check out the New Years Eve event!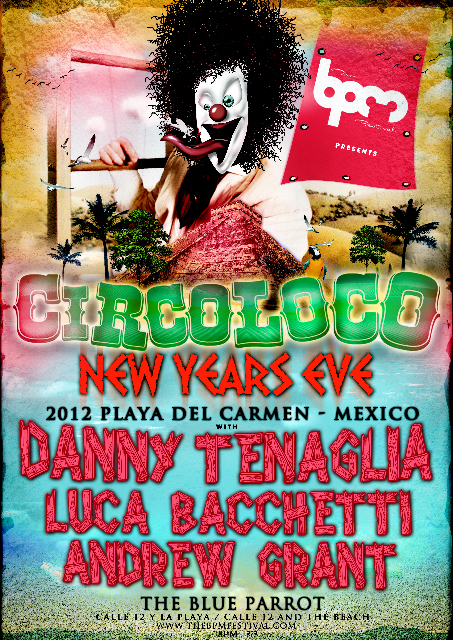 Full Event Listing
The BPM Festival 2012 Day Events
December 30 Niko Glenn / Antonio Piacquadio / Julien Loreto / Miketrix @ Kool Beach Club
December 31 Mike Montano / Neno / German Wagener @ Kool Beach Club
January 1 Michelangelo / The Midnight Perverts / Digitalique @ Kool Beach Club
January 1 Digital Delight label showcase: Puente + Rosch / Wildkats / Damian Uzabiaga @ Canibal Royal
January 2 Lauren Lane / Tini Tun / Mar-C / Nik Nik @ Kool Beach Club
January 2 Akbal Music label showcase: special guest Sebo K + Afrilounge / Robbie Akbal / Muan / Fredo Cortez / Mobius Strum / Max Jacobson / Dave Powers @ Canibal Royal
January 3 John Digweed / Craig Pettigrew / Paskal & Vesselinov / Jeff Gold @ Kool Beach Club
January 3 Life and Death vs Scissor & Thread label showcase: Thugfucker / Pillowtalk (live) / Frank & Tony / Black Light Smoke @ Mamita's Beach Club
January 4 Daniel Dubb / Endo + special guests TBA via BPM Twitter @thebpmfestival and Facebook @ Kool Beach Club hosted by Bal en Blanc
January 4 Cityfox showcase: Gregorythme (live) / Lee Jones / Mark Henning + Listed artists @ Mamita's Beach Club hosted by Listed Productions
January 5 Julien Loreto / Rodrigo Madrid + special guests TBA via BPM Twitter @thebpmfestival and Facebook @ Kool Beach Club
January 5 ***BPM 5 YEAR ANNIVERSARY EVENT*** Therapy line-up TBA @ Blue Parrot Beach Club
January 5 ***BPM 5 YEAR ANNIVERSARY EVENT*** My Favorite Robot label showcase: special guest Shaun Reeves + James Teej / My Favorite Robot / Metrika / Donovan / Jonny Cruz @ Canibal Royal
January 6 Saved label showcase: Nic Fanciulli / Matthias Tanzmann / Stacey Pullen / Ross Evana @ Kool Beach Club
January 6 No.19 Music label showcase: Art Department / Nitin / Deniz Kurtel / Tanner Ross / Dead Seal / Louie Fresco / Miguel Puente @ Canibal Royal
January 6 Give It to Me Old School: Addy @ Blue Parrot Beach Club
January 7 Toolroom Knights: Mark Knight / Adam K / D. Ramirez / Nik Nik @ Kool Beach
January 7 All Day I Dream: Lee Burridge + special guest Matthew Dekay @ Mamita's Beach Club
January 7 Therapy line-up TBA @ Blue Parrot Beach Club
January 8 Hed Kandi: Steve Aries / Nik Nik / Kenyon Clidero @ Kool Beach
January 8 Hot Creations vs Crosstown Rebels: Richy Ahmed / Robert James / Russ Yallop / Danny Daze + more! @ Mamita's Beach Club
The BPM Festival 2012 Night Events
December 30 Danny Howells / Sean Miller / Omar Labastida @ Blue Parrot Beach Club
December 30 Air London presents A Night in the Air: Simon Baker / Kate Simko / Nitin / Bioniq @ TBA
December 31 ***NYE 2012*** Circo Loco & The BPM Festival present Danny Tenaglia / Luca Bacchetti / Andrew Grant @ Blue Parrot Beach Club
January 1 Cecille Label showcase: Nick Curly / DJ Sneak / Neno @ Blue Parrot Beach Club
January 1 Superfreq: Mr. C / Three / XO-Chic / Damian Romero @ La Santanera
January 2 Viva Music showcase: Steve Lawler / Lee Burridge / Leon @ Blue Parrot Beach Club hosted by Vessel/Base San Francisco
January 2 Heidi presents the Jackathon vs Varsity All Stars: Heidi / Crazy Larry / Mike Khoury / Naveen G / Mar-c / Dory @ La Santanera
January 3 Sci-Tec label showcase: Dubfire / Davide Squillace / Carlo Lio / Shadwplay (live) / The Junkies @ Blue Parrot Beach Club
January 3 Clandestine Agency showcase: Guy Gerber / Nina Kraviz / Tato / Fary @ La Santanera
January 4 Movement + BPM present Minus showcase: Richie Hawtin / Gaiser (live) / Ambivalent @ Blue Parrot Beach Club
January 4 Dirty South / Serge Devant / Joee Cons @ Pink Elephant
January 4 Culprit label showcase: Lee Foss / Droog / Dan Ghenacia / Nymra & Sofisticated / Mightykat @ La Santanera
January 5 ***BPM 5 YEAR ANNIVERSARY EVENT*** Desolat label showcase: Loco Dice / Martin Buttrich (live) / tINI / Guti (live) @ Blue Parrot Beach Club
January 5 ***BPM 5 YEAR ANNIVERSARY EVENT*** Cedric Gervais / Funkagenda / Manzone and Strong @ Pink Elephant
January 5 ***BPM 5 YEAR ANNIVERSARY EVENT*** Soul Clap / Wolf + Lamb @ La Santanera
January 6 Stereo MTL presents Marco Carola all night @ Blue Parrot Beach Club
January 6 Boris / Richie Santana / Peter Bailey / Danny Torrence @ Pink Elephant
January 6 Jojo Flores / Halo @ La Santanera
January 7 Steve Angello / Uppercut @ Blue Parrot Beach Club hosted by Glow DC
January 7 Rebel Cave: Damian Lazarus / Jamie Jones / Art Department @ Alux Cave
January 7 Younan Music showcase: Saeed Younan / Pleasurekraft / Addy / Tara Brooks @ La Santanera
January 8 BPM closing party: Behrouz / Marko Nastic @ Blue Parrot Beach Club