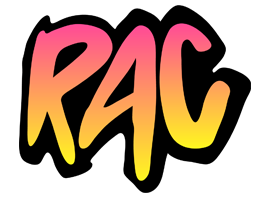 Sorry guys – meant for this to be your top ten yesterday, but I had a crazy morning and had to run out before finishing it.
The Remix Artist Collective, or RAC as they are known in the blogosphere, has dozens of quality releases dating back to 2008. Some of them are what you might call sample-based original works, and others are remixes or just 're-imagines' (which I suspect is something along the lines of a lazy man's mashup, though that's not to criticize RAC's work). In their own words:
We provide re-interpretations/remixes of individual songs for artists/labels. Above all, we strive for excellence and good taste regardless of genre. We aim to maintain a style of remixing that strays from the "club mix" archetype, creating new incarnations of songs that stem from the original structure, but expand on their genre and musical arrangement. RAC mixes typically feature a unique blend of hip-hop and electro drum samples, analog synthesizers, melodic hooks, and original performed instrumentation. Listen to our portfolio, get an idea of what we do, and shoot some ideas through us. We'll make it work.
So in other words, they are also a remix service, presumably for hire, which I think is pretty cool! They output quality work, and probably deserve to get paid for what they do, so power to them. You can check their website here, which includes a blog and their full portfolio.
[audio:Coconut Records – Nighttiming (RAC Remix).mp3,Edward Sharpe and The Magnetic Zeros – Janglin (RAC Remix).mp3,Holy Ghost! – Static On The Wire (RAC Remix).mp3,Kings Of Leon – Use Somebody (RAC Remix).mp3,Mr Little Jeans – Angel (RAC remix).mp3,RAC – Super Mario Bros (RAC Remix).mp3,The Shins – Sleeping Lessons (RAC Remix).mp3,The Temper Trap – Sweet Disposition (RAC Remix).mp3,White Arrows – Coming or Going (RAC Remix).mp3,Yeah Yeah Yeahs – Zero (RAC Remix).mp3]