Saturday July 24th will always be remembered as a hot, sticky day.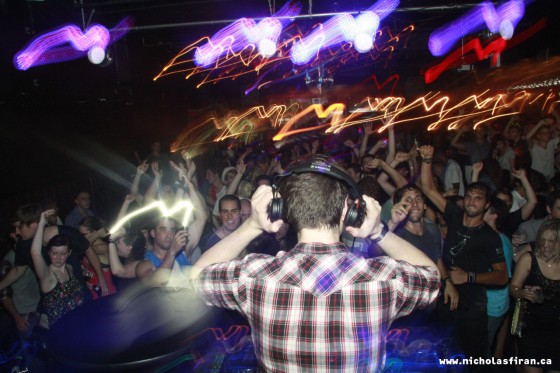 The outlook throughout the day was rather glum. The wall of rain that soaked Toronto during the afternoon was definitely a worry with many people thinking of reconsidering their plans for the night. For others, the showers was not going to pose a problem. By 10:30 the line wasn't huge at all, but the business inside was slowly starting to pick up. Tapedeck Bros were up.
Interesting set indeed. Truly enjoyed the classic French House they spun and was a fantastic way to set the mood for the night. Everyone was definitely feeling the groove and this party was about to get started. By quarter to midnight this place was packed and every one was looking fresh. The stage was occupied by some heavy hitting dancers who were getting the crowd very rowdy. At midnight, Grum took the stage.
[nggallery id=113]
At this point the crowd was restless and wanted to go crazy, and crazy is what they went. The entire room warmed up when Grum dropped his rendition of Chelley's "Took The Night". That is one serious bass line. It got to the point where one photographer decided his job for the night was done and set his camera aside to join in with the crowd!
Heartbeats was, without a doubt, the absolute dancefloor destroyer. Everyone was bouncing around and screaming and woah, it was electric. The feel of Wrongbar was fantastic, everyone was in a good mood and ready to have a very memorable night.
From what I remember of the wild dancing and smiling faces, I can't wait to see Grum come back to Toronto.
Credit to http://nicholasfiran.ca for the photos