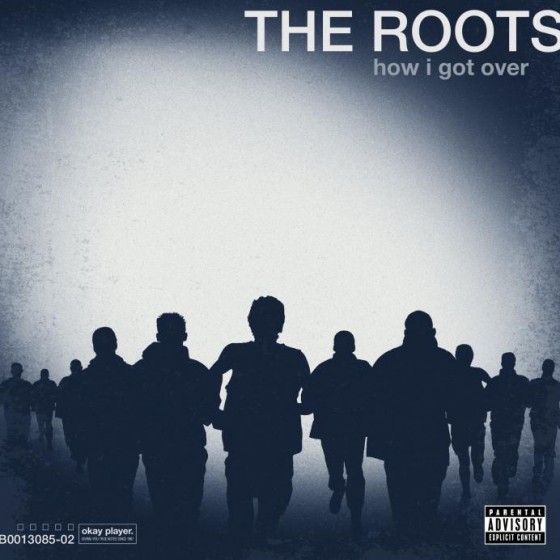 After 23 years of making music together as The Roots, Black Thought and ?uestlove have released their 9th studio album. Long time collaborator Dice Raw seizes several chances to shine on the album, Truck North picks up several excellent verses, and Phonte and John Legend up the star appeal. Make no mistake though – this record doesn't try to impress you, nor does it waste time with kitchy half-baked rhythms with pop appeal. The entire album is raw hip-hop, with the classic throwback and R&B appeal that comes with the territory of having a ridiculous set of real musicians (including the sickest hip-hop drummer on the planet) who use real instruments to make music. What's more, Black Thought, arguably one of the best emcees ever, even manages to say "fuck you auto-tune" without even mentioning the obnoxious production tool.
Check the play-by-play of what is, unquestionably, going to be one of the best hip-hop albums this year.
Track 1:Â A Peace of Light – feat. Amber Coffman, Angel Deradoorian & Haley Dekle
The album opens with a nice, harmonic intro with a few women humming.
Track 2: Walk Alone – feat. Truck North, P.O.R.N. & Dice Raw
Truck North opens this track with an incredibly strong verse. Now this is the way to start an album. He has an awesome voice and tone, super smooth delivery, and the lyrics are incredible – very powerful imagery, and very clever. P.O.R.N. has a sick verse too, and delivers it in more of what reminds me of a southern crunk style. Black Thought is totally flawless – I love how his first 8 couplets all rhyme, and then he switches it up on the second set of 8 by rhyming the last word in the middle.
Track 3: Dear God 2.0 – feat. Monsters of Folk
There's no discernable break between the third and fourth track rhythm wise, and the first lyric follows from the previous three verses. It's small touches like this that, to me, signal care having been put in to a work, and really make me appreciate the effort put forth on an album. Once again the song is lead off by a strong verse, with a very clever lyric about spiritual longing. Although the subject matter is heavy and in parts deeply philosophical, the track can be enjoyed on a number of levels.
Track 4: Radio Daze – feat. Blu, P.O.R.N & Dice Raw
The first thing that hits me is the change in drumming, as the song runs together with the one before it again. ?uestlove's drumming is ridiculously good, and drives this song hard. The hook is delivered next by Dice Raw, where he announces the premise of each verse "the satellite age brings us to the light", asking the question "are we more or less free?" Each rapper has their own thoughts on the underpinnings of this question, and reflects on those as well as pop culture.
Track 5: Now or Never – feat. Phonte & Dice Raw
Sick drumming again from ?uestlove, though the the track is more centred around the guitars this time. Dice Raw has another great hook.. really liking his voice. I'm overjoyed to hear Phonte on this album
Track 6: How I Got Over – feat. Dice Raw
HOLY SHIT FOLKS! A serious rapper.. SINGING. WITHOUT AUTO-TUNE! The song's lyrics aren't as subtle as the ones before, but they are more specific and focused on a cultural issue, rather than the philosophical ones addressed in the earlier tracks. Plain and simple, these guys just aren't down with the rampant apathy they're surrounded by, but they also have no time time for self-loathing.
Track 7: DillaTUDE- The Flight of Titus
An interlude and tribute to the late J Dilla.
Track 8: The Day – feat. Blu, Phonte & Patty Crash
The last few tracks have lead to a slow down and more suppressed mood on this track. Once again, the track follows from the more subtle message of the previous song, being 'don't let em tell you not to try'. Phonte and Blu bookend the track perfectly, and Patty Crash's lovely and soothing voice sings the hook "…I should start living today"
Track 9: Right On – feat. Joanna Newsom & STS
This seems to be the single that's floating around the internet the most, but personally, I think it is one of the weaker tracks on the album. It's all good, though a bit formulaic.
Track 10: Doin' it Again
This song addresses a lot of sentiment that was held prior to the release, about The Roots releasing another album with nothing much to their name since Rising Down but a gig on late night television. Personally, my response was "Really? You figure that, despite jamming 5 nights a week, that the new album isn't going to be any good? Don't you know a damn thing about The Roots?"
Track 11: The Fire – feat. John Legend
The Roots – The Fire ft John Legend by salacioussound
My absolute #1 favourite off this album is The Fire. The message of this album culminates in this track, for me. You really get a sense for the responsibility that Black Thought and The Roots feel to their fans, for creating good music, and for just grinding the best they know how. There's a ton of good imagery in this track again, but my favourite lyric is:
Before time start to wind down like the Mayans
I show 'em how I got the grind down like a science
There's nothing that this track doesn't have going for it. Simple and kick heavy drumming by ?uestlove, and a really rich sounding hook by one of the greatest vocalists today, John Legend.
Track 12: Tunnel Vision
Another sick interlude.. very Roots.
Track 13: Web 20-20 – feat. Peedi Peedi & Truck North
This strikes me as a really sick battle-style track.. ON STEROIDS. The lyrics are fucking ridiculous, and the delivery is incredible on all parts. I don't take much away from this song like I do the others on the album, but what did strike me was the censoring used. Throughout the album there is pretty minimal swearing, but on this track the words 'homo' and 'bitch' are rhymed, and both are censored.
Track 14: BONUS* Hustla – feat. STS
Please let it be a hust-a-la

Baby be a hust-a-la

Hope my baby girl grows up to be a hust-a-la

Let her be a hust-a-la

Baby be a hust-a-la

If not then you only a customa

Please let it be a hust-a-la

Baby be a hust-a-la

Hope my baby boy grows up to be a hust-a-la

Let him be a hust-a-la

Baby be a hust-a-la

If not then you only a customa