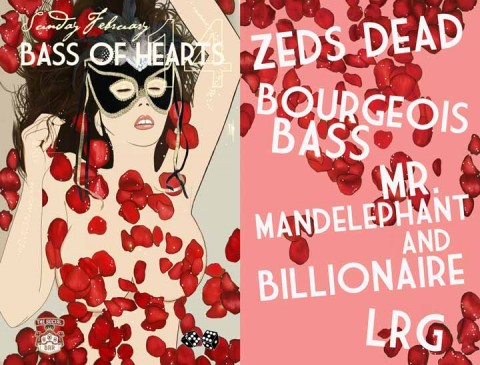 Cody LeKush and I have been involved in a couple of jams together, however, really there are 2 that have really stood out. The first, Voyeur, happened towards the end of the summer and featured a live vocal performance that had all members of Azari and III on the mic with Starving Yet Full. The biggest moment of the night came as everyone felt Cedric's voice drop in for Gasaida. The second, Bass of Hearts, took place on Valentines Day.
Bass of Hearts was a resounding success, despite my bias. Bass music ranging from live  Drum and Bass act LRG, to Zeds Dead's unreleased and exclusive laden set took over The Social on this night. Bourgeois Bass, the opening DJ act that follwed LRG, managed to fill the room with a smorgasbord of low frequency love. Luvstep took over that night until the lights came on courtesy of our homies at Plugged Not Thugged taking us late night because it felt right. The rented sub made everyone forget this was the same venue in which Rusko was unable to finish his set due to issues with the soundsystem.
Zeds Dead will be playing a very special wonky Hip Hop set alongside Jogger, Nosaj Thing and Daedalus at Wrongbar this Thursday.
Here is a little mix that Mr. Mandelephant from PnT dropped my way. Check it.

1. Kasper BJ – Alcatraz (Kenton Slash Demon Remix)
2. James Braun, Dan M – Lessons Part 2
3. Sebo K, Metro – Saxtrack (Reboot Twisted Fist Remix)
4. Kolombo – LOL (Kolombo Remix)
5. Jesse Rose – Heavy Still (Zombie Disco Squad Remix)
6. Vernon – Give Me Love (Shaun Reeves & Lee Curtis Remix)
7. Riva Starr – Dance Me feat. Trim (Payme Remix)
8. Moss Eisley Cantina – ** (Fredski & Thomas Barfod Rework)
9. Gregor Salto – Mystery Baila
10. Invasion – Spells Of Deception (Boy 8-Bit Remix)
11. Volta, Salvatore Freda – Tiramisu
12. Heinrichs & Hirtenfellner – Down
13. Dennis Ferrer – Hey Hey (DF's Attention Vocal Mix)
14. Theo Parrish – Falling Up (Carl Craig Remix)
15. Junior Boys – Hazel (Ewan Pearson's House Remix) – Dixon Edit
16. Zev – Forget The World feat. Beckford