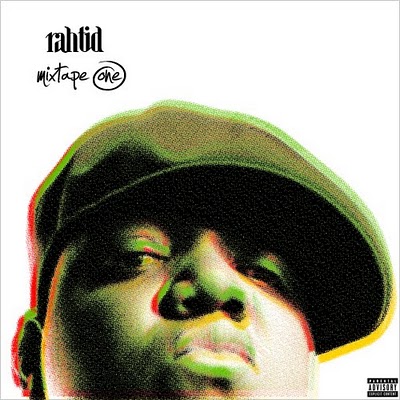 This 16 track mixtape is all Biggie mashup remixes, a la dancehall, reggae, and dubstep. Â Rahtid Sound fired it my way, and I have to say that it is one of the most entertaining DJ mixes I've listened to in a while. Â Here's a word from the artists:
Over the past months MegMan (of Anti-Pop Consortium and Byzar infamy) and Dub Dillinja have been working on their first non-commercial collaboration. Under the Rahtid Sound moniker the two have released their first EP available for electronic download.
'20Twenty: Your Were Here' is a collection of 6 re-imagined dancehall riddims which include a modern remake of the famous Sleng Teng riddim (the first dancehall beat made entirely from computerized sounds). But rahtid, they didn't stop there. To accompany the EP they also released a hybrid mash-up mix tape simply called 'Mix Tape One'.
'Mix Tape One' revisits the life of Biggie Smalls, seamlessly pairing a capella tracks from 'Ready To Die' and 'Life After Death' with original riddims from '20Twenty…' and old and new dancehall favorites. 'Mix Tape One' is what would have happened had Biggie entered one of those tiny rural Jamaican music studios while on one of his many visits to his parents' homeland. It's hip-hop, it's dancehall, it's dubstep, it fits many categories.
[audio:Notorious B.I.G. – Fuck You Tonight (Rahtid Sound Rompin Shop Remix).mp3,Rahtid Sound – Mixtape One (Biggie Dancehall and Dubstep Mashups).mp3]
Tracklist:
1. Welcome to the Borough (Intro)
2. Gimme the Loot Brooklyn
3. Going Back Solid as a Rock
4. Juicy Cars, Rolex Sex
5. The Hypnotizing Killer
6. Nuh Linga at the Bullshit Party
7. Suicidal Dub
8. The Alarm is a Warning
9. Struggling Everyday
10. The Taxi Driver is Dead Wrong
11. I am Without Limits
12. Imperial Victory
13. Kicking Girl Problems
14. Mi Young Guns Under Mi
15. F**king in the Rompin Sho
16. Leaving Brooklyn (Oy Vey!)