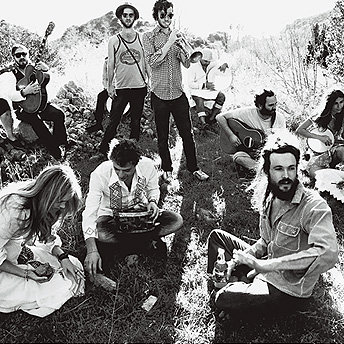 I recently learned that LA is breeding artists other than DJs. I know its hard to believe, but its true…LA has soul, LA can rock, and LA is home to some fine fuckin¹ FOLKS too. EDWARD SHARPE AND THE MAGNETIC ZEROS are proof of this amazing and reassuring truth. 10 instruments – 1 in every band-members hand, and the balls to call their music straight Folk (yes, they are a 10-piece folk band), make these modern-hippies one of the most unique groups currently on the rise. Mix the pain of rejection with the raw emotion that comes from it, and you have their basic recipe for success. Take a jolly and jaunty ride through the raw mind that is Alex Ebert, the former front-man of Ima Robot, who built this nu-age folk-band after experiencing raw rejection from major labels. Suckers. They blew it, and now the man has gone back to his hippy-roots – he's jumped the fuckin ship, and the waves are taking him deep to sea, and those money-grubbing label-bastards might never get him back now. Hooray for independent music lovers everywhere, mark this one in the W column.
Their Live shows are compared to the best musical festivals, tents and dancing are a must, random acts of love and LSD should be expected, and
anyone wise enough to experience the full force of the music walks away on a literal (and metaphoric) high. Buy a ticket if you can for their next show, bring lots of love, hash-pipes and munchies, Stock Ale, and your dancing shoes to boot. I hope that these guys never go away. This is medicine for the soul – apply it to every pore on your body, scrub deep, wash, rinse, and repeat.
Check out this video of them performing my favorite track from the LP, entitled 40 Day Dream-

The song begins with Alex Ebert, the magnetic front-man of the hippie-filled ten-some, proudly declaring that he has been sleeping for 40 days, and you know he's sleeping because this dream is too amazing. Fucking right. I can only hope he never wakes up.
[audio:Edward Sharpe and the Magnetic Zeros- 40 Day Dream.mp3]