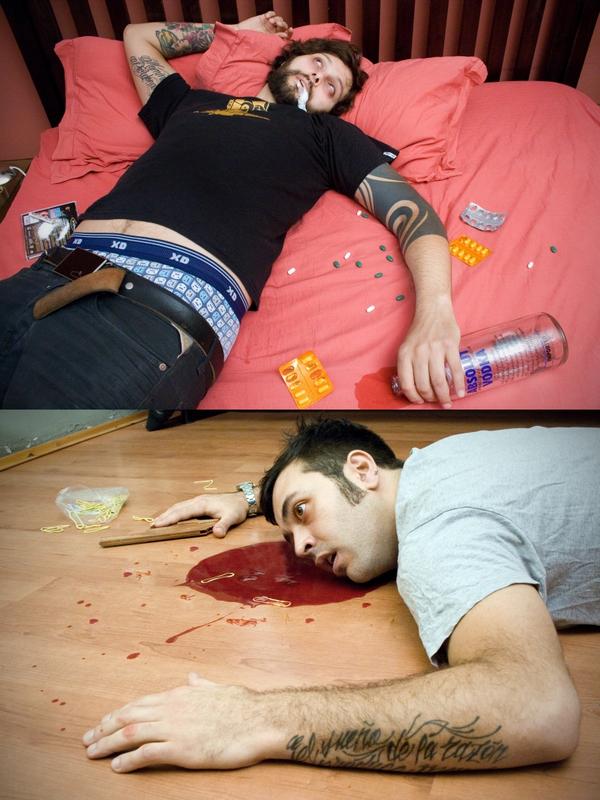 So apparently Italy is the new hot spot in the club electro scene (haha new.. riiiight!). Its not a surprise that with the likes of Crookers and The Bloody Beatroots rising to super stardom, it was time to look for the little guys, however you don't always get what your looking for right? These guys are HUGE!
Since 2004 from their homeland in Catania, Sicily, they have been dropping consistently hotter and hotter bassline hits. Their catalog is diverse and extensive but it is this years mega hits that have put them on every dj, promoter, radio, and bloggers radar. Their wonky brand of club ready bangers caught the attention of one of the hottest labels out and they were immediately scooped up by Kitsune.
For those of you who missed out on The Social last Saturday or the after party at The Faktory loft (which I'm reminded of by that pic up top), Don't hate me for rubbing this mix in your faces. Cuz you seriously missed out and I guarantee by the next time you'll have to pay at least twice as much and go to an annoyingly huge venue. These guys are poised to EXPLODE!
Enough of me talking about them tho, listen to their North-American Tour Mix and check their MYSPACE and find out for yourself.
You can see from just the track list if your somehow still not convinced these guys are the shit!
1 Queen – Flash's Theme
2 Maybb – Touring in NY – Blatta & Inesha Street Meat Rmx
3 Blatta & Inesha – Raw Power
4 Calvertron – Buggin'
5 Titan – Bruxism Groove – His Majesty Andre Mouthguard Rmx
6 Chant Of Victory – Arab Money – B&I Edit
7 Blatta & Inesha feat Discoette – Urban Cougar
8 Sawgood feat A Girl And A Gun – Teenege Blitz B&I Edit
9 Moustard Pimp – Kiwi
10 Fukkk Off – More Than Friends – Congorock Rmx
11 Blatta & Inesha feat Wiskey Pete – What's The Time
12 Los Marcellos Ferial – Quando Calienta El Sol
[audio:Blatta and Inesha – North American Tour Mixtape.mp3]