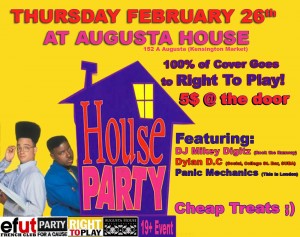 (Click on the flyer for Facebook Event)
Party for A Cause (PFAC) is a student group at the University of Toronto that has been throwing hot parties for a couple of years now to raise money for charity. Often partnering with various faculties and colleges at the University of Toronto their parties have been out of control while raising money for Right to Play. Having worked with them as a promotional rep over the past year I have come to admire the amount of work and dedication these individuals put into this venture.
Thursday February 26th this group will be launching their first monthly event @ Augusta House (152A Augusta in Toronto's Kensington Market). A regular event has a lot of potential to help the organization increase the amount they are able to donate to Right to Play annually. We at SalaciousSound are 110% behind this venture as it is a great way have an amazing time doing something honorable.
DJ Cal? will be closing out the night on the Ones and Twos which only provides more incentive for you to check out this night!
Hope to see you tomorrow night!
The Monarch
[audio:M.I.A – Boyz (DiscoTech Strangelove Remix).mp3]