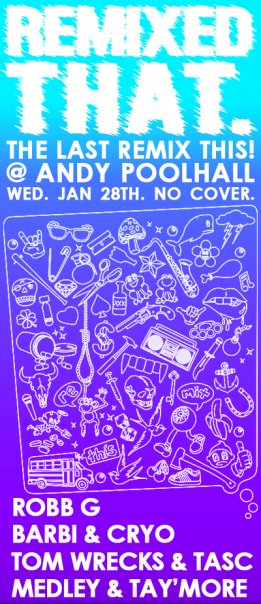 Wednesday will mark the end of an institution in Toronto's DJ scene. It was at Remix This that I first had the chance to really talk to DJ Medley and I immediately understood why he was so well respected. Remix This was his brainchild. With the desire to create a night that was about music in order to escape the pretentious direction in which club culture was heading, Medley's night allowed DJs to flourish. He has played to host to a who's who of Toronto's DJ scene. Notable residents include Dj Tasc and Tom Wrecks who's remix of Love Lockdown was included on the official Kanye West Mixtape. The environment allows for unbridled creativity on the ones and twos and the freedom to experiment with new ideas.
While this Wednesday will mark the end of this weekly event at Andy Poolhall, it does not mark the end the underlying current responsible for a movement like this. With Dance Like You Fuck, Medley's Thursday residency and second child to carry on the family name, you know DJs will have a place to exhibit their creativity. When Remix This throws a reunion party people will come back out of love for three things: Great People, Great Dancing, and Great Medleys.
Here are a few things people had to say:
Matt showcases DJ's who don't only play music, but make it. That means you're sure to hear something that you've never heard before. With dance music being influenced by so many global styles right now – electro, b'more, baile funk, dubstep, grime, mash-up…it's all fair game for the remix. As a DJ and a remixer, I fully respect any opportunity to make or play music that's different from the commercially driven pre-packaged sound. This is the driving force behind Remix This and that's a concept that all DJ's should follow.
Andy Poolhall had a great little sound system that can handle this kind of Indie Pop noise and Medley was already on that kind of tip.
Remix This came at a time when this kind of music was first blowing up again after a 10 year hiatus from the big clubs. Hip Pop and R&B like The Spice Girls, Backstreet Boys, Nelly, Beyonce, Jay Z, and Jennifer Lopez was the shit that ruled Richmond Street and bottle service was the norm.
Remix This was a Wednesday night club party on a nice sized dance floor that offered "No Pretensions" just great new music and a nice sound system with some of the best Dee Jays Toronto has ever seen. I am very proud and thankful to Remix This founder Matt Medley for letting me be a part of it.
The night I stepped behind the turntables I was following a slew of dope DJ's and Producers who had been asked to spin as guests already at Remix This, so I knew I had to step up my game. A couple of them were in the audience, so when I dropped my first track, "Smells like Electro" by "Disco That No Talent Hack," an Electro cover of Nirvana's Smells Like Teen Spirit, the reaction was amazing. People came to the dance floor from outside to start dancing and after my first two or three mixes I relaxed and started to have the most fun I'd ever had in a D.J. booth. By the end of my set I was humping the turntables and yelling at the dance floor to "throw their hands in the air!"Hopefully another club will pick up on Remix This and the tradition of challenging talented D.J.'s and Producers New and old to drop nothing but remixes will continue on in to the next decade. I don't ever want to see a resurgence of watered down pop being blasted in the clubs and everyone standing around booths looking like bored models and stock traders. I wanna see heads of all ages loosing their shit on the dance floor!
Thanks again for letting me be a part of your movement Medley, I'll see you on the dance floor for Remixed That on Wednesday night!"
I think remix this was one of the best weekly parties in the city of Toronto.. Not only did it allow weekly guest DJs the chance to express and challenge themselves creatively, but it provided a unique environment that could not be found anywhere else in the city.. I had a great time playing there, and would play another set any time.
I had a good time, it was a fun little Wednesday night. I remember Medley had a nice setup in the booth so I could get a good live recording. Nice people, no cover, what more can you want
– DJ Sta
"You were that party. You are that party, I should say. You gave so many chances to people to play and have fun and you even took pics of everyone and recorded their sets. I hope people gave back to you Matt, you're like Mother Theresa of parties.
You like to give everyone a fair chance, that's amazing. Why are these stupid promoters removing the light from the bulb??? idiots.
you're my fav
– DJ $leaze
REMIX THIS!! was my first gig i ever played! Medley is such a rad dude/ couldn't have asked for a better DJ cherry popping experience!hAHA.
– DJ Barletta (Mansion)

Check out the Facebook Event for a list of all of the past guests and more information about Remix That.
Here are some related tracks!
[audio:Kanye West – Love Lockdown (Tom Wrecks Remix).mp3,TMDP – Running (DJ Barletta Glitch Fix).mp3,Crookers – Seglia (Oh Snap Booty Alarm Medley Re-Edit).mp3,Jay-z and Santogold – Brooklyn Go Hard (Medley Remix).mp3,Jay-z vs Mylo vs Medley – 99 Problems Vs Drop The Pressure (Tenderlions Remix) (Medley Blend).mp3,Steve Smooth JJ Flores Colette Vs Lindell Townsell – Stay Nu Nu (Medley Mashup).mp3]