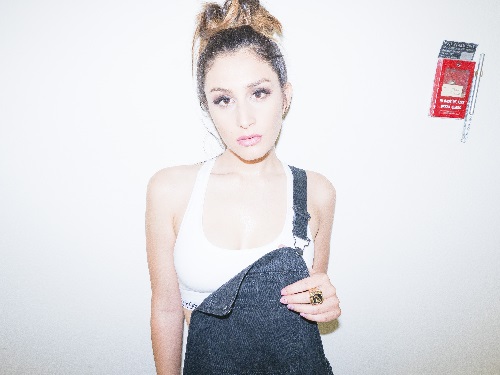 One common trait amongst many all 90's kids is our insurmountable nostalgia for the greatest decade ever – and VenessaMichaels is no exception. Building her 2090 brand around the new-age sound of the 2000's and RnB/Hip-Hop influences of the 90's, Venessa brings to the table something truly fresh and unique, yet takes you back to the classic sounds of yesterday.
I've had the pleasure to ask Venessa about her recent signing to Circle & Rubix Management, 2090, and a bit about life in the 90's.
How did you come up with the 2090 brand?
The music came up with it.  I'm a 90s kid and as my sound evolved it became 2090.  The future of the 90s.  90s inspiration to a new genre.
Who's been the biggest influence(s) to your sound/brand, particularly from the 90's?
Timbaland, Missy Elliot, Destiny's Child, Gwen, No Doubt, Aaliyah, Jay Z, Mariah, Eve, Usher.
How has signing on to Circle and Rubix Management changed the game for you?
Having a strong team that believes in the music enforces the movement altogether.  I'm grateful to be a part of Circle and Rubix, because there's a lot we can do together.  We are currently working on shows and getting together some song releases 🙂 . This year will be telling of how the game changes.
How do YOU hope to change the game?
Honestly when it comes down to it, it's all about the music.  I want the music to spread as far as it possibly can and I hope people can vibe with it as hard as I do.
What can we expect to hear from you in the near future?
Expect to hear some throwback remixes! And a cover flip of the classic, "Killing Me Softly" by The Fugees featuring vocals by the talented MOONZz. <3 I also have some originals that I'm dying to share. All to come soon…
What's the most nostalgic throwback to being a 90's kid?
Probably in third grade hoola hooping with all my girlfriends listening to "Hey Baby" by No Doubt and then coming home watching the Rugrats. I watched it every day, I don't think I ever missed an episode.  Tommy is my idol.  Also, Tragic Kingdom was everything to me. It still is.  Yoyos for life, too.  I used to have the Bumble Bee YoYo, I spent all my allowance on it & broke it the same day.  Try Again by Aaliyah and Timbo always brings me back AND Whoomp There It Is by Tag Team. I had that song on repeat every time I got in a car.  ALSO riding my bike with a CD player, the struggle was real.
If I gave you a random iPod and told you that 'this is music from the year 2090', what do you think you would hear?
Okay you would hear Destiny's Child back together again with a new album. Beyonce would basically be 110 years old… You would hear endless 808s and future sounds.  Big synths, big harmonies, R-Kelly would sing "I believe I can fly" but it would drop into some future Jersey Club. It would be somethin' special, nothing to miss.  I hope we are all alive for the year 2090.  Until then, let's celebrate like it's 1999 and live in 2090 through the music <3
Check out Venessa's SoundCloud page for a taste of the 2090 life, as well as some free downloads!
~VenessaMichaels~