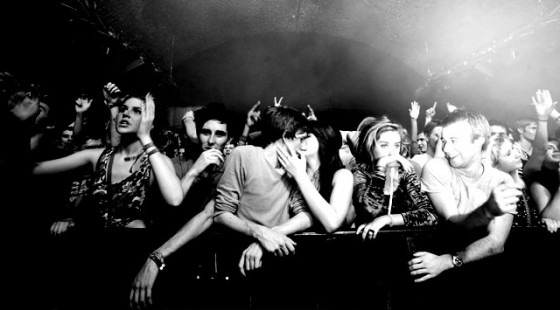 Warehouse Project 2012 is looking to be bigger and badder than ever. With the full lineup released a few days ago, it's looking like we're going to see some of the biggest talent from both sides of the Atlantic converge on Manchester.
The opening weekend, tragically sold out, features names familiar to anyone who was at the ill-fated Bloc Weekend (I'm looking at Kode 9, Jackmaster, Nicolas Jaar, Joy Orbison, and Jacques Greene as some of the heavy hitters in this category) as well as something you can really bang your head to (Diplo, anybody?).
FEAR NOT! The subsequent weekends are still looking massively sick, and still have available tickets, with many of the crowd-wowers from the first weekend making re-appearances throughout the 12 weeks of Warehouse. Add names like TNGHT, Pariah, Two Inch Punch, Richie Hawtin, and Carl Cox to that list, and, in the words of the great Carl Weathers, "Baby… you got a stew goin!"
Oh, and that's just the first weekend. Read on to be flabbergasted by lineups from Crosstown Rebels (perennial favourites around here), Bugged Out, and the artists themselves (I'm especially keen on that SBTRKT show).
I don't want to make this short post a pure hype-job though… I think many of us still have a sour taste left in our mouths from that whole debacle at the London Pleasure Gardens (Bloc) earlier this month. Therefore, I will justify my seemingly unfettered optimism about WHP 2012: this is a tried and true event, it's run over a period of weeks (rather than days), and it's all going down at a non-experimental venue.
To put it bluntly: there's all the lineup steez (and way, way more) of Bloc without the unpredictability.
Well, without the BAD kind of unpredictability. I predict plenty of the fun kind of unpredictability that lands you on a roof with a runway model from Australia. The kind who will "absolutely love your glasses, and oh my god can I try them on?"
http://www.thewarehouseproject.com/
http://www.thewarehouseproject.com/tickets.php
FRIDAY 28TH SEPTEMBER – WHP LAUNCH — RINSE

Katy B, Skream, Diplo, Boy Better Know, P Money, Lianne La Havas, Zinc, Kode 9, Plastician, Alunageorge, Oneman, Artwork, Pearson Sound, Jackmaster, Ben Ufo, Roska, Jamie George, Loefah, Joker, Dismantle, T Williams, Yougsta, Icicle, Marcus Nasty, J:Kenzo, Brackles, Baauer, Elijah & Skilliam, Royal-T, Preditah + C4 Uncle Dugs, Mark Radford, Sian Anderson, Sgt Pokes, Tippa, Sp:Mc, Shantie

£20.00 : 19:30 – 04:00
SATURDAY 29TH SEPTEMBER – WELCOME TO THE WAREHOUSE 

Nicolas Jaar — Live  , Seth Troxler, Maya Jane Coles & Heidi B2b  , Maceo Plex, Four Tet — Dj Set, Ben Klock, Julio Bashmore, Scuba, Joy Orbison & Jackmaster B2b, Jacques Greene, Andrew Weatherall, Soul Clap, Justin Robertson, Bicep, Krysko & Greg Lord, Mark Webster

£25.00 : 18:00 – 04:00
FRIDAY 5TH OCTOBER – WHP PRESENTS 

Richie Hawtin | Carl Cox, Loco Dice, Nina Kraviz, Yousef, Alexis Raphael , Paco Osuna, Matador, Krysko  And  Greg Lord, Louche Djs

£25.00 / £28.50 : 20:00 – 04:00 
SATURDAY 6TH OCTOBER – CURATED BY SBTRKT

Sbtrkt — Live, Four Tet — Live, Tnght — Live, Ft: Hudson Mohawke & Lunice, Caribou — Dj Set, Rustie — Dj Set, Jacques Greene — Dj Set, Lone, Xxxy, Pariah, Oneman & Chunky, Kwes, Two Inch Punch, Illum Sphere, Krystal Klear, Jonny Dub, Damu – In Association With Hoya:Hoya

£25.00 : 20:00 – 04:00
FRIDAY 12TH OCTOBER – BUGGED OUT!

Boys Noize — Live, Simian Mobile Disco — Live , Paul Kalkbrenner, Erol Alkan / Fake Blood, Green Velvet / Cajmere, Jimmy Edgar, Tensnake, Spank Rock, Eats Everything, Space Dimension Controller — Live, Rob Da Bank, Horse Meat Disco, Trevor Jackson / Playgroup, Johnno

£22.50 / £25.00 : 20:00 – 04:00
SATURDAY 13TH OCTOBER – APE BIRTHDAY

Sub Focus — Live , Doom, Mark Ronson, Benga — Live, Andy C & Mc, Zane Lowe, Gq, The Magnificent… Dj Jazzy Jeff, Shy Fx, Caspa, Toddla T, Dj Marky, David Rodigan Mbe, Brenmar, Kid Koala Presents 12 Bit Blues , The Bug Ft Flowdan & Daddy Freddy, Juicy Djs, Rich Reason, Mcs: Stamina, Tonn Piper, Chunky, Numbers Showcase: Dj Ez, Jackmaster, Deadboy, Redhino, Spencer
£22.50 / £25.00 : 19:30 – 04.00
FRIDAY 19TH OCTOBER – CURATED BY BLOC PARTY

Bloc Party, Chromatics, Theme Park, Plaitum, Now Wave Djs, Will Tramp!

£25.00 / £28.50 : 19:30 – 04:00
SATURDAY 20TH OCTOBER – WHP PRESENTS

Room 1 – Armin Van Buuren, Paul Van Dyk, W&W
Room 2 – Markus Schulz, Arty, No Id, Matt Everson
Room 3 – Pete Moby, James Rigby More Tba

£25.00 / £28.50 : 20:00 – 04:00
 
FRIDAY 26TH OCTOBER – A HALLOWEEN SPECIAL — CURATED BY TEED
 Totally Enormous Extinct Dinosaurs — Live, Derrick Carter,John Talabot, Matias Aguayo, Todd Terje , Factory Floor — Live, The 2 Bears, Jack (Friendly Fires) & Edwin (Foals), Present Deep Shit , Daniel Avery, Mosca, Special Guest Dj Set, Drop The Mustard, Hypercolour Records Presents: Huxley, Tom Demac, Alex Jones, Shenoda, Indigo, Ste Roberts, Cedric Maison

£19.50 : 20:00 — 4.00
SATURDAY 27TH OCTOBER – WHP CLOSED — NO WHP SHOW TONIGHT 
FRIDAY 2ND NOVEMBER – COCOON 

Sven Vath, Ricardo Villalobos, Adam Beyer, Cassy, Raresh, Sascha Dive, Dinky, Adam Shelton, Brendan Long, Zutekh Djs, Krysko, Greg Lord

£25.00 / £28.50 : 20:00 – 04:00
SATURDAY 3RD NOVEMBER – 10 YEARS OF METROPOLIS

Chase & Status — Dj Set, Dj Fresh Presents Fresh Live, Skream & Benga, Ft Sgt Pokes & Youngman, Beardyman, Rudimental — Live, Feed Me — Live, Mistajam, Ms Dynamite, North Base
Room2: Friction, Dj Hype, Loadstar, Hatcha & N-Type, Fabio & Grooverider, Randall B2b Bryan G B2b Nicky Blackmarket, Sl2 Steppa B2b Garry K
Room3: Made In Manchester, Marcus Intalex, Jenna G, Estate, Recordings Showcase:, Broke N English, Skittles Chimpo & Fox, Virus Syndicate, Mark Xtc B2b Sappo, Mak, Propz & Rowney, Dawn Raid

£25.00 : 20:00 – 04:00