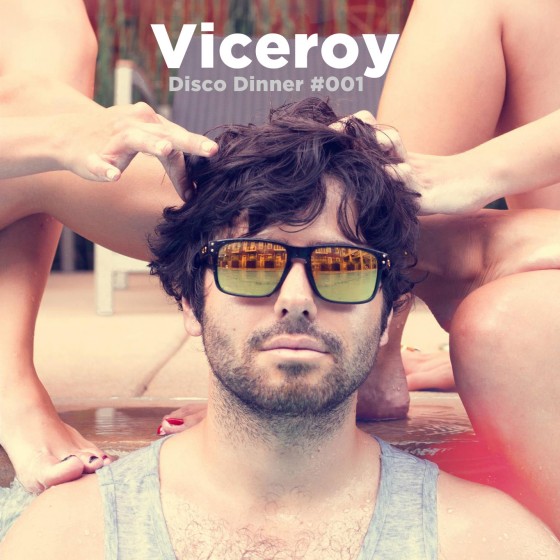 Last month we had the opportunity to bring San Francisco summertime producer Viceroy to Toronto to play a show with us and Arrogahnz at Czehoski. As we were having dinner, we made sure to get everything we could out of him in terms of advice, stories, and even a laugh or two at our first ever Disco Dinner. The idea behind Disco Dinner is that we have found these pre-show dinners to be incredibly insightful, so we figured aspiring artists and producers could really benefit from having access to this knowledge.
Thus the idea was born.
We are extremely grateful that Viceroy was willing to help us out with this. Going forward, we will continue to bring in the best disco talent to Toronto and make this series as regular as they'll let us. We hope you enjoy! – Wheel Wells
Wheel Wells: You stress the importance of a good mentor to anyone starting up in the music game. Your mentor is Treasure Fingers. How were you able to score that?
Viceroy: I've known him for a long time. He came to Trinity (Viceroy's college) my sophomore year before the EDM explosion happened. I was already getting into EDM, and he was the one artist that I was really into.
So he came to town and I said "Hey I'm probably your only fan here, just to let you know, I'm a humungous fan". He was really pumped about it and a lot of people came to the show because it was a DJ on a Thursday night and it was also a 'Luau party' that this girl put on.
I took him out after and we just got shit-faced at the frats and he had a good time. He gave me his number and we kept in contact. Then the next year I came to Brooklyn to see him play and said hello. Then when I started Viceroy and I sent him my music for feedback, him and Alvin Risk actually. I got to know Alvin because I was part of an organization called the Mill where we would bring in acts to Trinity (Alvin was one of them).
WWs: You started Viceroy February 2011, were you making tracks before then?
V: I used to be a mashup DJ. In college, I used to play at frats all over the country. I went by DJ Philistine. But after a while I realized mashups suck and got over it really quickly. No offense to those DJs, they are getting paid great for their shows but there is no long term progression in that. They will just be playing to college kids their whole life. With that being said there are good mashups that I can appreciate, the Miley Cyrus/Biggie mashup was amazing. But once it became easy to do, I became less impressed.
WWs: How did you get into making music and DJing?
V: I went to study abroad in Rome for my junior year (fall 2009); studying abroad is a big thing at our school. In the first week I went to this bar and went up to the manager and said "I want a job here DJing" meanwhile I've never DJed before in my life. And the manager was like "Yeah, you've got Tuesday nights. I don't give a fuck what you play, just bring lots of Americans and bring me money".
I woke up the next morning and was like "Oh my fucking god, what did I do? I'm such an idiot, I don't know how to DJ". So I started to read up on how to DJ, I also was starting to mess around with Ableton and mash ups at the time. I realized it's very simple, you can just use A and B and tab through the tracks. And so I just gave it a shot and the party became a hit.
Soon enough I started to get gigs in legitimate clubs. I was the only person in Rome playing disco house and electro, everyone there was really into deep house and tech house at the time. I was this American kid playing disco and electro.
Then I started making mashups that fall. I was building up hype on the college blogs and started playing shows at frats in New York. Then in my senior year, I realized that mashups had become saturated and I wanted to do something that people would take me seriously for. I had a love for disco house and wanted to do it.
To start, I just tried out some cool samples and messed around. I didn't know how to produce at the time because I was just doing mashups. But I made some demos and sent them around. I sent them to a few places and Nico (Shiny Disco Club owner) said he loved them.
It was a good place for me to start; it's a smaller label, they have some cool music and they had a good following. And so I put out my first EP with them in February 2011.
Then I got kind of sick of sample house. Sample house gets old in my opinion; you basically just find a great sample and throw drums on it. Lot's of kids are doing it, and it's great, but it gets really old really quickly. And you don't progress. It's like mashups, you can only just mash up stuff.
I've played guitar for 7 years and I played piano when I was younger, I just wanted to start making synthy stuff. So after that the first non-sample piece I put out was the Katy Perry remix.
WWs: Did you get the stems for that or bootleg it? How did that work?
V: My friend is a member of this secret acapella website and he gave me the link to it. No other remix of that song was out yet. I didn't have a big enough network of blogs at the time to make it blow up on Hype Machine but it was the only one out so it did get some good traction. But it wasn't official. I actually didn't do an official remix until my remix of Yelle.
WWs: And that was the remix contest winner right?
V: Yeah. She is the only artist that I can listen to in a different language. She's like the Lady Gaga of France.
WWs: Let's talk about the remix of Duck Sauce's 'Goody Two Shoes' and how that helped your profile.
V: The Goody Two Shoes remix blew me up. It got really big. This was April 2011. But once Alan (A-Trak) found out about it, he asked me to take it down, so I ended up taking it down and felt bad about the situation.
I respect him, he's a really cool artist and I love his work. He's a good guy and a genius. I did as much as I could do to take it down. I now understand why it would piss off the artist. I was just starting out and trying to make a name for myself. Would I bootleg someone's track again without the artist's permission? No I wouldn't. With the exception of my Jet Life remixes because they are different.
WWs: Ah yes, the infamous Jet Life Remixes. Tell me about those.
V: I don't make Nu-Disco, I don't like to label myself like that. I think genre labelling is a cluster fuck of something so stupid. I just like to make summer music, and this allows me to try certain genre's while sticking to a similar feel. I wanted to do something different that would branch me out to a new market. College kids specifically, and hip hop fans.
I started with the Wiz Khalifa remix in the fall and it went very well. So I thought I would do it as a series. I started doing one every 3 or 4 months. The whole premise is to do something different. It's something that people can look forward to every few months.
And it's a whole new fan base that probably wouldn't give two seconds to listen to my other stuff. College kids love Avicii and Swedish House Mafia, but now they're getting exposed to my other stuff via the Jet Life remixes.
WWs: You have done a great job branding these remixes and you have very consistent imagery. What is your aim with respect to your artwork and branding?
V: I think I've now found my art work style. The Notorious BIG remix is when I really figured out font and imaging with old school 50's and 60's ads. They're all ads from the 50's and 60's that I cropped out. I do all the art work myself, granted I get advice from some of my graphic design friends. It has a bit of a Dick and Jane feel to it. I noticed it's really funny that all the photos I pick are white people having a ball.
(Laughs)
WWs: And they're all black artists.
(Laughs)
V: In the 50's and 60's you're obviously not going to see many black people in ads.
WWs: So how did you get the acapella for the Wiz Khalifa remix?
V: Well he actually did a remix competition for that song a couple years ago. I originally made that beat and didn't know what to do with it. And then I happened to find the acapella and I wouldn't consider this track to have a Jet Life feel, but the singers were in the same key and the bpm was similar, so it worked out really well, especially with college kids.
Going forward, everything else I'm going to do is strictly going to be classic from either 6th or 7th grade or even older, elementary school.
WWs: The reception really has been great for these remixes.
V: Actually I heard Mark Morrison really liked the Jet Life remix of Return of the Mack.
WWs: Wow, that's hilarious
V: It's great. He's coming out with a new album.
WWs: You guys should get a remix album together.
V: He said that he wished he knew I was putting it out because he was pushing for a collaboration together. But I had no idea what he was up to. I think he's been in and out of jail for the last fifteen years.
WWs: Let's shift gears and talk about how you got your production skills up to snuff.
V: I got lucky I guess. I was reading up on stuff, I was sending stuff to Treasure Fingers and Alvin Risk for feedback. On my first couple tracks you can tell that the production value isn't that great.
I just learnt over time; you find little things that are so simple but make a huge difference, where I just think "Fuck I should have done that, it would have changed the whole track".
But you can't dwell on those things. It's a process; I learn new things every week that I wish I knew earlier.
WWs: Where do you learn from?
V: I meet people that know more about it than I do and I learn from them. Also Youtube has tons of great tutorials. It's just fucking around, working at it and learning stuff. It's a process, everyone does it differently.
WWs: Finally, we are curious as to how you fit all of your low BPM tracks into your sets, especially if you are playing the main slot?
V: I usually play pretty hard stuff, disco in the mid twenties, Oliver and Treasure Fingers etc. I usually don't play many of my own material except for the Jet Life remixes.
But it all depends on the party.
I was at a deep house party the other day with B-Roc from The Knocks and I was playing a bunch of Poolside, low BPM Plastic Plates, Moon Boots etc. To answer your question I just slowly raise up the synth sound in the Biggie remix and then transition into Return of the Mack after that. It is usually a nice break in the middle of my set for people. At the end of the Return of the Mack, I made a nice transition track that takes the remix and ends it at 127 so I hop back into my set. I could just start with low bpm stuff and build my way up or if I'm at a club then I'm not going to play those songs.
WWs: Special thanks to Viceroy for his willingness to share some of the insights he's gained. Drop us a line to let us know what you think about the interview, and what questions you'd like us to ask to future producers.
Wheel Wells are an indie-dance duo from Toronto, Canada. You can catch them every Friday night at Czehoski and every Saturday night at Wrongbar. Listen to their music here, find upcoming shows here, and follow their blog here.