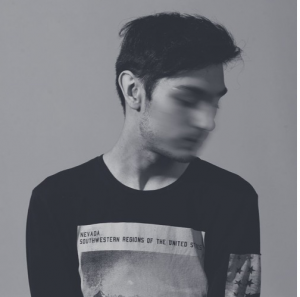 The early AM is my prime time for SoundCloud digging. A couple weeks ago, I stumbled upon a true gem by the name of Kidswaste. At 18 and hailing from France, Kidswaste's songs blend an eclectic mix of playful tunes, ambient warm-sounding beats, and also deep-trap infused mixes. They are often hashtagged with categories like "Chill" and "Future", which is a pretty apt way of describing his music because in reality, Kidswaste's tracks don't really belong to any specific genre of electronic music. I had the chance to have a nice long chat with Kidswaste today, so check it out below.
What inspired you to make music and at what age?
I started at 15 and mostly because I was in a band. We were all friends but had to disband because of some issues. So when I left I was like, "Okay I still like music so what should I do now?" I just had a guitar so I went on my computer and I said okay, let's just record on my computer and try stuff and that's how I got into producing. I really wanted to get into something and music was that thing because it was fun for me and I don't have a lot of passions apart from video games.
How did you get involved with your collectives?
Nykon is a reddit thing and Slow Hours is a bit special. We are five friends whereas with Nykon we are from everywhere- Australia, Finland, etc. Slow Hours is special because we are all French and five friends before (which are all the members plus me) and I joined in the conversation because they liked my music and I liked theirs and it was like "Okay, why not". We will release stuff through Slow Hours because it gives us an identity as a group, but not necessarily as a collective because we aren't really a collective, we're just a group of friends. The real thing is just a group of friends making music together.
For me, it feels like you've got such a uniquely clean sound throughout all of your music no matter if I'm listening to something like "UNXPCTD" with that heavy bass melody thing going on in the middle of the song, or something more dreamy like "Medicine". Can you explain where this sound comes from?
It's hard to answer, really. My sound comes a lot from ODESZA, originally. If you listen to my first EP everything sounds a bit like ODESZA so you're really filled with inspiration. Now I'm just really trying to create something that is my own now. For example, on the EP I am working, "Circle of Sounds", there are tracks like "Neiro" which is chill and then there is "UNXPCTD" which is chill trap. And there is 'Miss You" which has a lot of indie-alternative inspiration. These three tracks represent three different genres that are really different such as the process of making them and all that. And that's what the EP is about, actually. The EP is about taking music no matter what genre or what inspiration, and making them mine. As typical as it sounds that's basically what it means. I'm taking sounds and I'm using a circle of them and making them for me. That's why it's all very different now. But I guess in the beginning, the very first inspiration that I had was Odesza.
Where did your name come from?
Well it's a kid from the waste. What it means is that I wanted to have something that means starting little and then going big. Kidswaste really means what it means, it's a kid with nothing for him. And that's what the logo, called "Kiddy" means as well. It has to be a child and has to be very simple and he has nothing for him. Kiddy really represents what Kidswaste is, as a character. And that's what I wanted to have as a real name because I had a lot of names before and I don't even want to name them because they suck. But Kidswaste was the one where I was like "Okay I have something" and I just kept it.
I guess you've answered this a little bit, but where do you get inspiration when making music?
From friends first, with my collectives and all that. This is my main inspiration first without listening to music because they give me ideas and ways to work. Artists will be Odesza, I like and listen to a lot. Also Mura Masa and I guess you can hear a bit of that in my music. Lastly is Koan Sound. Koan just has this huge quality of being able to do everything that he wants. Like if he wants to do chill or if he wants to do new bass, dubstep, anything, then he'll do it. And I value that a lot. Koan Sound is my main inspiration in terms of being creative. But I dig Odesza and Mura Masa a lot.
If you had the chance to pick anyone, past or present, which artists would you most want to collaborate with?
Odesza, definitely. And the fact that many of my producer friends are friends with Odesza as well, it's sort of heartbreaking for me because I'm like "let me talk to them please!" but it brings me a lot of joy as well because I know they're accessible. Now I just need to have consent to ask for even an official remix of one of their songs. But I just want to work with them because I'm so inspired by everything they do.
Which tracks of yours are you the most proud of?
The new version of "Come Back" that is going to come out. It's a collaboration with Gnash. The original track "Come Back" I released like 5 days ago and it was just created in a 4 hour session. And Gnash hit me up to say that he sang on the track, so I did a re-edit of the track with his vocals and all that. Which was like, truly awesome. And that will be released Monday with a premiere and everything. So yeah I'm really excited for that.
What's your workflow like?
I have to finish fast, for some reason. I don't know why. It's like I'm playing a game where I have to finish the fastest I can to win. But most of my good tracks were made like that. "Underwater" is a bit special because it took me three hours but I had to remake it after one or two months because I was like "Okay, it's okay but I can make it better". Most of my tracks are finished after six hours. I'll check a song two weeks after and be like, "Okay I can still do some things with it." Sometimes I just release them. "Come Back" is a good example because I just finished it in like four hours and then I was like "Okay let's just release it".
What are your future plans or aspirations within the next year (or however far into the future you've thought about)?
Well, my EP first, which I have to get done for the beginning of this year. So February or March, that would be optimal. Also I guess playing more gigs because I want to play more live and have fun. For the end of 2016, I'd like to prepare sets with stuff I can play live. "Come Back" is the beginning of getting real instruments and sounds, things that are easy to play live. Also maybe move to Canada or something like that because Europe sucks.
Any advice to aspiring producers or DJs?
Work. There's nothing much to say. What I do is go on my computer, play video games all day, and at night I just produce for 3 or 4 hours and get a track done. There's no real tutorial on anything that you can tell to people. When I was beginning, people were telling me that the only thing you can do is work and I was like "Can't you tell me something else?" but there is nothing else. You have to work to get there. And when I say "to get there" it's not even getting 10k followers which is like nothing for Louis The Child or someone. People need to work and it's just that. Music is work if you can get into it.  And if you want to do it, of course, because if you are forcing yourself, then don't do it. 
Kidswaste:
Soundcloud ~ Facebook ~ Twitter