Robots Do It Better: Part 1
Article by
StatiK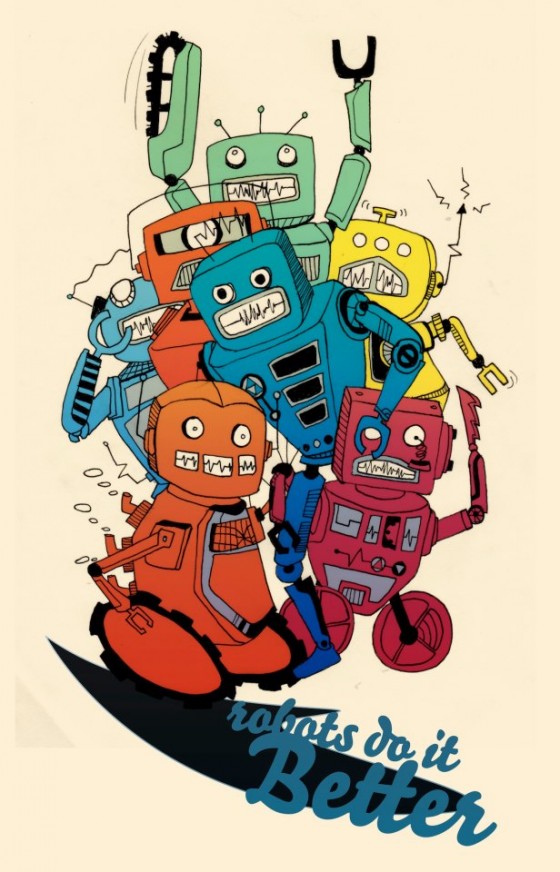 I love a great live vocalist as much as the next guy, but today, "Robots Do It Better" will be giving credit to the machines. I'll be showcasing my all time favorite tracks prominently featuring vocal lines that without heavy use of technology, would simply be impossible.
I've seen lists like this done a few times over, so to keep it original I'll be focusing my selections on relatively recent dance music only. Let's say nothing before 2000? I guess I have a thing for counting down top 10's, so hey, let's do it again! Part 1 will cover the first 5 tracks that robots really did better.
#10
Bloody Beetroots ft. Beta Bow - Second Streets Have No Name
Bloody Beetroots are known for having quite an in-your-face rock star mentality to their live performances, but little do many fans know, Sir Bob Cornelius Rifo produces some softer work as well. Dipping in and out of funky downtempo house beats, 'Second Streets Have No Name' shows off the talented producer's lighter side.
#9
Feed Me - Death By Robot
Could this song title be any more appropriate? A master of gritty production in the cleanest way possible, Feed Me throws some perfectly executed vocoder into this mix, enforcing the powerful theme played out through the lyrics. This is the newest release I've included, but it surely deserves a place here.
#8
James Blake - Lindisfarne (AZEDIA Remix)
I'm going off the board with this pick. I absolutely love every detail London duo AZEDIA adds to James Blake's 'Lindisfarne'. They turn the sparse original into an adventurous track reminiscent of some sort of dubstep, but listen the whole way through and you'll find yourself surprised at all the twists and turns. Beautiful live keys step in to take over the vocal melody through the second half, and I couldn't imagine a better way to direct the momentum this piece builds.
#7
The Death Set - Negative Thinking (Treasure Fingers Remix)
Treasure Fingers pushes remixing to the extreme here, with a complete do-over of The Death Set's live tune, 'Negative Thinking'.  Using only the screechy punk-rock lyrics from the original, he re-records the vocals in his own robotic style, and turns the unexpected into a catchy dance track.
#6
Benny Benassi - Love Is Gonna Save Us
Boy do I miss the old Benny Benassi. Not to downplay his newer releases, but I feel his early tracks had so much more substance. I still remember being introduced to Benassi's 'Hypnotica' in high school… my first real taste of the world of electronic music. Just about every tune on the album utilizes some type of computerized vocals, but 'Love is Gonna Save Us' has stuck as one of my all time favourites since it's release in 2003. I hunt down new music every day, so it's a rare feat to say the least.
– StatiK
Stay tuned for part two, where I'll count down my final top 5!
More Articles About The Artist(s)
Azedia, Benny Benassi, Bloody Beetroots, Feed Me, Treasure Fingers